Petrogas EP is a major oil and gas producer in the Netherlands and needed urgent assistance with one of their platforms.
Aggreko was asked to provide a solution to save costs, emissions and fuel.
The Q1 Helder platform was built in 1982 and there was doubt regarding its life expectancy. With one of its gas turbines operating at 14% efficiency, Petrogas required a hasty rental solution that could improve productivity and align with new NOx emission regulations.
Not only that, but the two existing diesel generators needed fuel to be bought and stored, which ramps up the cost.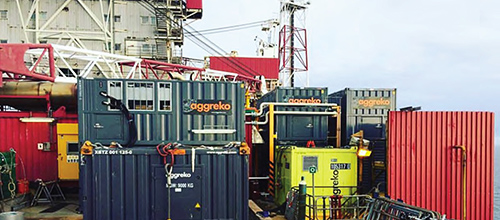 The rental specialist took control of the power generation for the platform by supplying three 1.1 MW gas generators, which included heat recovery that could be used to heat water for both employees and other facilities on the platform.
These gas generators run at a highly efficient level, allowing Petrogas to concentrate on their core business.
All regulations are met and costs are lower than the previous power package.
The installation of the three gas generators makes the purchase and storage of expensive diesel fuel unnecessary and thanks to the high efficiency level of the power output, Petrogas reaps the benefits of this solution. All of this was made possible without CAPEX.