Wind Energy – South Korea
BadaEnergy announced on Tuesday that it has selected Hyundai Heavy Industries HHI as the preferred bidder for the EPC (Engineering, Procurement, and Construction) of its Gray Whale 3 floating offshore wind farm.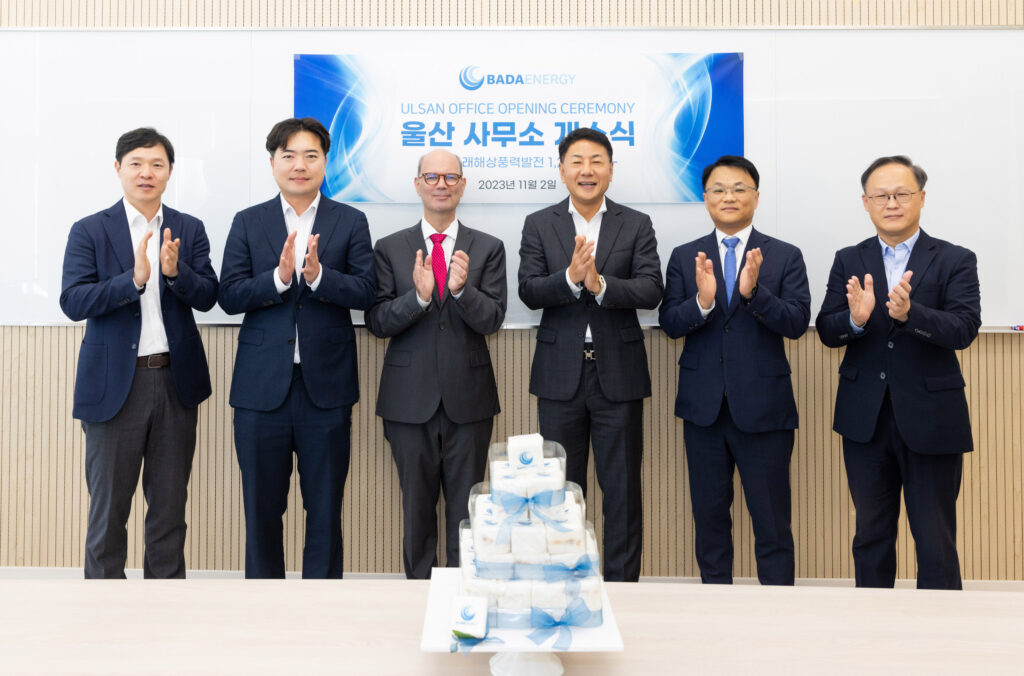 BadaEnergy is a portfolio of offshore wind projects in South Korea jointly developed by Corio Generation, TotalEnergies and SK ecoplant.
In August last year, BadaEnergy selected the HHI and Doris Engineering consortium as Front-End Engineering Design (FEED) contractor for Gray Whale 3 to perform FEED (Front-End Engineering and Design) services for floater, mooring and inter-array cables.
HHI is now collaborating in a task force with the BadaEnergy team and Vestas (selected as Preferred Wind Turbines Supplier to provide 33 units of the V236-15.0 MW wind turbine) with the aim to continue optimizing design and industrializing the execution plan of the fabrication of the 33 hulls, the integration of the turbines and the installation to the site.
As per the agreement, Vestas will provide 33 units of the V236-15.0 MW wind turbine to be installed on floating foundations.
The Ulsan floating offshore wind projects (project name: Gray Whale 1,2,3) aim to construct 1.5-gigawatt in public waters about 60 kilometers east of Ulsan Port, targeting to start phased construction from 2025 and begin the first commercial operation in 2028.
Once the project's third phase is completed, the wind farm is expected to be one of the world's largest floating offshore wind farms.
With the selection of the preferred bidder, BadaEnergy will be able to rapidly implement its strategy of localizing all stages of offshore wind projects. As offshore structures are one of the key facilities in offshore wind development, HHI, which has extensive experience in the construction and fabrication of offshore plants such as FPSO (Floating Production Storage and Offloading) and platforms, is expected to sharpen its competitive edge and export its technologies to the overseas market by participating in Korea's first and one of the world's largest floating offshore wind projects.
BadaEnergy's co-Representative Director Woojin Choi stated: "We believe this is one of the most significant milestones in our great journey towards floating offshore wind. To achieve the global net-zero target by 2050, more than 2,000 GW of offshore wind projects need to be built globally (which represents a market of KRW 12,000 trillion), with the majority being floating offshore wind. Korea's supply chain participating in our floating offshore wind projects will have an excellent opportunity to enter the global floating offshore wind market. Also, we believe our floating offshore wind projects in Ulsan will help Ulsan City achieve its net zero targets and be designated as a Special District for Distributed Energy, attracting innovative companies that require a renewable energy source for electricity."
"TotalEnergies and HHI have built a strong partnership by carrying out a variety of projects in the oil and gas sector since 2000, and based on this mutual trust, HHI has successfully performed FEED work, bolstering a win-win partnership," Gray Whale 3's Project Director Guillaume Le Maréchal said. "As it happened 25 years ago with Oil and Gas, we are convinced that the floating offshore wind project in Ulsan will serve as an example of a revival of the local economy and the best practice of Korea's technological prowess being widely recognized overseas, by creating synergy with local companies centered on Ulsan to establish local supply chain of offshore wind."