Wind Energy – Christening of Green Jade in Taiwan
DEME announces that the revolutionary offshore installation vessel Green Jade officially joins the fleet today.
The momentous occasion was celebrated during a festive naming ceremony, held at the Kaohsiung shipyard in Taiwan.
Green Jade is the second vessel of its kind to join DEME's fleet, following the successful deployment of the offshore installation vessel Orion, which entered the fleet in spring 2022. Both Green Jade and Orion embody a game-changing installation concept, boasting impressive loading capacity, lifting heights and advanced green technologies.
The Green Jade is the first Taiwan-built offshore wind installation vessel operating under Taiwanese flag with Kaohsiung as home port. The new-building represents the largest foreign investment DEME has ever made.
With its 4,000-tonne crane capacity and a cargo area of 8,200 square metres, Green Jade is able to transport multiple jackets and foundation components for next generation, mega wind turbines in a single shipment, significantly enhancing cost effectiveness.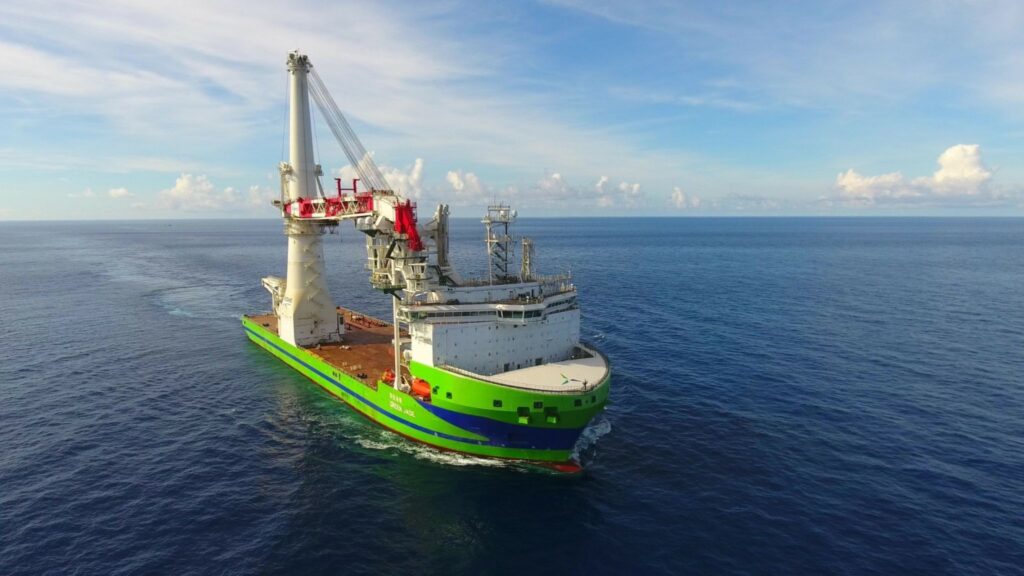 CDWE, the joint venture between CSBC, the largest shipbuilder in Taiwan, and DEME Offshore, will deploy Green Jade for the installation of offshore wind farms in Taiwan. The vessel is the first offshore installation vessel constructed in the country and will be a crucial asset in the local offshore wind industry.
The event garnered significant attention from local and international stakeholders in the offshore wind industry. Vice Premier Cheng Wen-tsang of the Executive Yuan presided over the ceremony, while Minister Wang Mei-hua of the Ministry of Economic Affairs was invited as the Godmother of the blessing ceremony.
​Green Jade will be deployed in a few weeks firstly for the jacket installation of the Zhong Neng project, owned by CIP and CSBC's neighbour CSC. Salient detail, the steel of the Green Jade was supplied by this very same CSC. Shortly thereafter in 2024 and 2025 on the impressive 1044 MW Hai Long project for Pin Pile and Jacket installation.
Both the Zhong Neng and Hai Long project have been the key drivers for DEME to take the Final Investment decision on the Green Jade for which we are very grateful! For the round 3 auctions, CDWE is in close dialogue with the developers and we are confident that this will lead to good business for all parties. Green Jade has several contracts in the pipeline already and will initially be deployed for the installation of jacket foundations at the 298 MW Zhong Neng project.